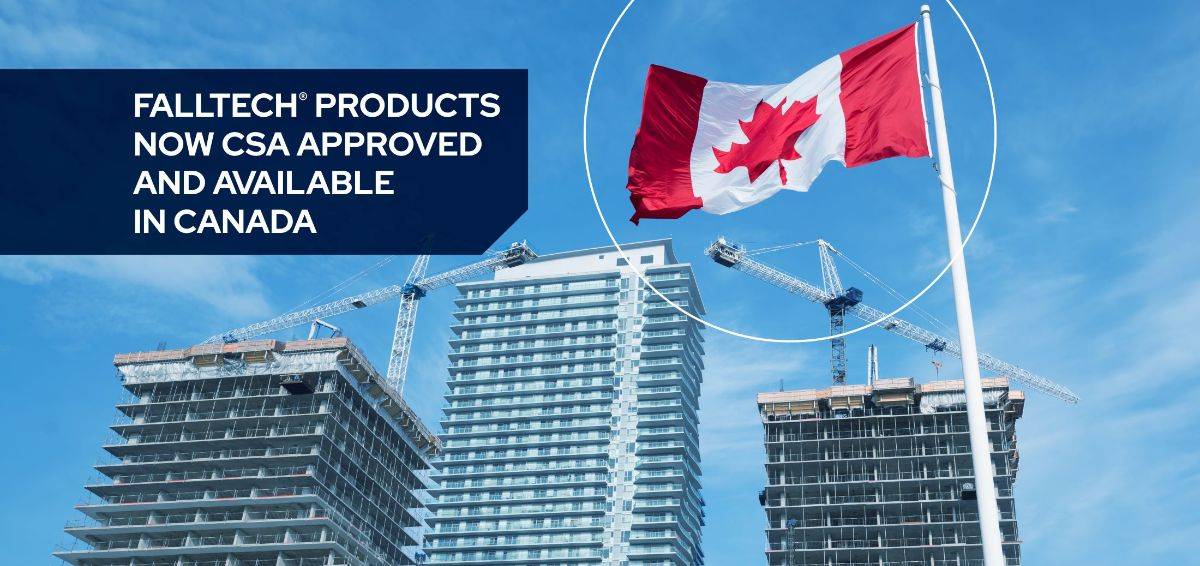 In response to market demand, FallTech® announces today that its product line is available for sale in Canada. It has successfully completed a rigorous testing process of many of the most relied upon and important Fall Protection products which now meet Canadian CSA standards, as well as ANSI and OSHA for the U.S. Market. FallTech solutions will be available through select Canadian channel partners.

Products available for sale in Canada include a broad selection of anchorages, full body harnesses, lanyards, vertical lifelines and fall arrestors, self-retracting lifelines, both overhead and personal, and other fall protection solutions.

Brands available for sale in Canada include DuraTech® Web and Cable SRLs, Contractor Series SRLs, Advanced ComforTech® Gel, Journeyman Flex, Tradesman Plus, Contractor Plus, and WeldtechTM branded products.

The FallTech Canadian Catalogue Supplement is now available that illustrates the range of branded products available for the Canadian market, as well as the applicable CSA standards to which they comply.
Harnesses are certified to CSA Z259.10-2018 Class A or Class A, P and ANSI Z359.11-2014
DuraTech® and Contractor Leading Edge SRLs shown are certified to CSA Z259.2.2-2017 SRL-LE
DuraTech® Mini SRLs shown are certified to CSA Z259.2.2-2017 SRL
DuraTech® web and cable SRLs shown are certified to CSA Z259.2.2-2017 SRL
Vertical Lifelines and Fall Arresters shown are certified to CSA Z259.2.5-2017
---
For immediate questions regarding purchasing FallTech products in Canada please contact:

John Moore, Canadian Sales Manager
jmoore@falltech.com (403) 479-3242


---
Since 1991, FallTech, a leading U.S. manufacturer, fuses all fall protection safety with technology into state-of-the-art fall protection solutions. With our in-house ISO 17025 accredited test lab, we ensure that FallTech solutions meet or exceed ANSI, CSA and OSHA standards. We are committed to our products performing in the most demanding field conditions, combined with reliable performance, value, and outstanding service.

Whether you need your job site outfitted with fall protection gear or training, our experts make it easy and help you find the right solution. Standards change. Regulations shift, but FallTech's commitment to our customer's safety is rock solid.